This will be mainly for my own reference.

Table of Contents:
____
_________________
About Graysen:
{ Loves red pandas and Gallifreyan stuffs. }
{ Sorted and content Ravenpuff. }
{ Proud and awkward Hoot Owl. }
{ Nerdfighter and collecter of words. }
{ "I'm sorry if I'm wide awake,
But exhaustion is not mine to take." ♥ }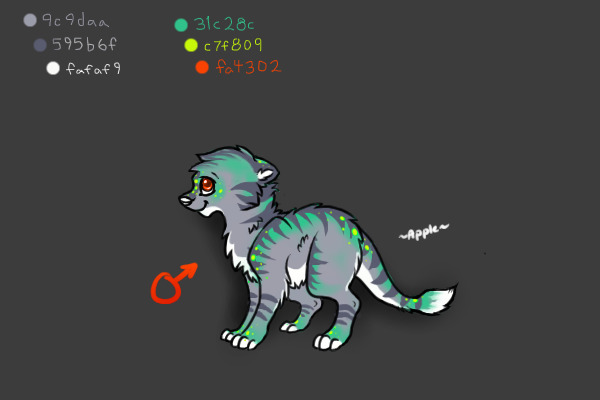 Beautiful design done by Berkshire.
Záře (or Zare) - pronounced
Zeh-r
- meaning 'glow' or 'shine' or 'brilliance' in Czech due to his odd, green/blue glowing coat pattern
Male
1 year old (pre-teen)
Won as a runner-up from
this
. Original post can be seen
here
.
Personality: WIP
Relationships:
Zare and Splash are close cousins, but if you didn't know better, you'd think they were siblings.
If you'll see, they have a similar underbelly and grey back, as well as stripes, which hints to their relation to start.
Ever since Zare was newly born, Splash found herself intrigued with Zare. The two spend a lot of time together. Most often you'll find Splash leading him along, and Zare trailing along behind her, biting down lightly on her tail. (He most usually goes after his own tail, but Splash offered hers once she discovered this bad habit of his.)
Usually the two will be found in a small mess of trouble by the end of the day. Not to say that either of them don't have good intentions; quite the opposite. Splash will speak up and defend her little cousin, most often getting him out of the worst of it all.
Zare is a bit of a loner, but then, so is Splash. The two just fit.
However, with both of them being so moody, sometimes Zare set off the smallest thing, the two will have days where they don't get along. Other days however, one of them will be able to make the other see reason and put them back in a good mood.
Zare the quieter of the two, though his voice is growing with him. (In front of strangers he'll have to whisper into Splash's ear to have her convey any messages.)
He's a little too selfish and a little too stubborn, but if anyone can put him in his place when necessary, it's Splash.
Zare and Derico are ______ (cousins?)
Art:
Tiny Little Zare
by Graysen
Chibi Zare
by Graysen
Posing Zare
by Graysen
Pondering Zare
by Graysen
MAJOR WIP.
Last edited by Graysen on Sun Apr 14, 2013 4:52 pm; edited 5 times in total
_________________
About Graysen:
{ Loves red pandas and Gallifreyan stuffs. }
{ Sorted and content Ravenpuff. }
{ Proud and awkward Hoot Owl. }
{ Nerdfighter and collecter of words. }
{ "I'm sorry if I'm wide awake,
But exhaustion is not mine to take." ♥ }
_________________
About Graysen:
{ Loves red pandas and Gallifreyan stuffs. }
{ Sorted and content Ravenpuff. }
{ Proud and awkward Hoot Owl. }
{ Nerdfighter and collecter of words. }
{ "I'm sorry if I'm wide awake,
But exhaustion is not mine to take." ♥ }
_________________
About Graysen:
{ Loves red pandas and Gallifreyan stuffs. }
{ Sorted and content Ravenpuff. }
{ Proud and awkward Hoot Owl. }
{ Nerdfighter and collecter of words. }
{ "I'm sorry if I'm wide awake,
But exhaustion is not mine to take." ♥ }


Similar topics
---
Permissions in this forum:
You
cannot
reply to topics in this forum