This thread will eventually be for all my kiamaras, but as of right, I am pleased to say I own but one beautiful darling<3
Come, Look and enjoy<3
I'd appreciate If you didn't post yet C;

Oliviatheshark




Posts

: 6


Reputation

: 0


Join date

: 2013-01-20


Age

: 28


Location

: United States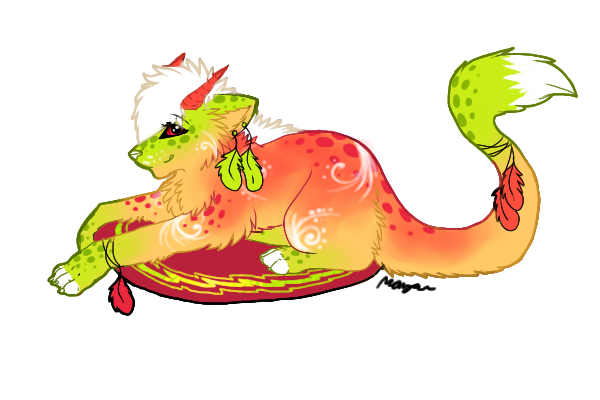 'Life's good, Relax!'
Name:
Iz Kamakawiwo'ole
Age:
Iz is four Years old <3
Gender:
Iz is Female
Orientation:
After catching herself looking at Snapple,
she found she's Bisexual,
like both males and Females C;
Occupation:
Iz, holding a job? |'D
Place of origin:
Born and raised in Hawaii
Current location:
Honolulu, Hawaii
Crush:
She finds herself liking Snapple and Luster
((Snapple belongs to apple and Luster to Midnight.Dragon C;))
Theme Song:
Somewhere over the rainbow-Iz Kamakawiwo'ole
Life Quote:
'life's short, enjoy the good times forget the bad'
-she herself
Laid Back|Irresponsible|Wise|Naive|Childish|H a p p y
Laid Back
Having a relaxed or casual atmosphere or character; easygoing
Iz is one of those who is ok with just about anything.
As long as she can smell the salt water
and feel the sun, she's a happy kiamara.
She's always in a calm, mood, even in times of panic.
The sun's still up,the Earth's still alive, why should she worry?
Irresponsible
Not showing a proper sense of responsibility
hehe
Yeah, you guessed it,
Iz is not the most responsible girlie
it's not that she purposely wants to be deemed irresponsible
it's just that she simply keeps pushing stuff off
"I can do it later"
she never gets to her tasks,
she gets sidetracked and forgets.
Silly girl,
Most of her friends understand
Heck, they even try and help her out from time to time
<3
Wise
Having or showing experience, knowledge, and good judgment
though Iz lacks both good judgment and knowledge
She has her moments of wisdom and beauty
Iz is a 'sleeper' if you will
She like to pretend as though she know nothing
only to surprise those with the wisdom she does hold
Naive
Showing a lack of experience, wisdom, or judgment
bit of a contradiction here, no?
heh
Though she has her moments of wisdom
the rest of the time, she can be kind of, out of it,
she doesn't hold great judgement
'I dunno, it looks ok enough to me..."
I rest my case
Childish
Silly and immature.
Silly and immature,
personally, I don't think I could have said it better myself,
Iz is one goof who just wants to make people smile
she has the mindset of a child
and from time to time
that's perfectly ok<3
Happy
At peace with the world.
Iz is forever ok
no matter what is happening around her,
she finds that little light that brightens the darkness
she has a smile plastered to her face through thick and thin
you'll never see her upset,
why be upset, when all around you
is a beautiful world
"the world is beautiful in more ways then one
keep your eyes open and you'll find that hidden jewel"
<3
I'm currently in the process of writing it<3

Oliviatheshark




Posts

: 6


Reputation

: 0


Join date

: 2013-01-20


Age

: 28


Location

: United States



All her art will go here C;

Oliviatheshark




Posts

: 6


Reputation

: 0


Join date

: 2013-01-20


Age

: 28


Location

: United States





Similar topics
---
Permissions in this forum:
You
cannot
reply to topics in this forum