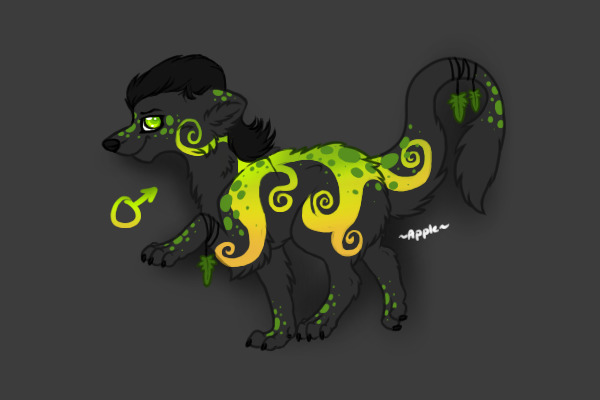 ------------------------
Loki Laufeyson ( Lo)
Nickname: Lo Lo
100% Male
-------------------
Here you Have my lovely Kia Loki Laufeyson or Lo as he goes by for now. He is my first Kia ever to own and I must say I am such a lucky person to win his heart~. Designed by Cristo ( Dean) He was the first Kia I ever officially tried out for. I tried my hardest and with the support of my friends I succeeded in obtaining my dream Kiamara. I wanted to put this part here as a little thanks to all my friends who helped me and supported me even with my self doubt I owe you all the great love you deserve~

Loki will never be neglected he will always be my number 1 baby boy among my kia's in the future ( if I ever try for more). He shall keep his status as my number one character of choice beside Clu my fursona and I would spoil him in art and pleasure among my other characters. As promised I am making him pages for him as I stated in my form

Now enough sappy talk XD lets get on to about this adoring Kia.~
Last edited by Loki Lo on Wed Apr 24, 2013 2:44 am; edited 1 time in total
Loki was born a burdened frost giant. He was a runt and weak so his father casted him out into the cold to die. Odin found him and raised him as his own unaware of his true family blood. Loki was prince of Asgard a kingdom of the norse gods, He is brother to Thor and second in line for the throne but he knows his brother will take it. Loki is the god of mischief a trickster of trade and silver tongued liar. He has always been jealous of his friends and Brother for their love and affection they get more then him. As much as his family tried he had always felt outcasted and sorta figured out he was not one of Asgard after all. He soon figured this out and saught out to ruin his brothers day of being king. as a result it caused Thor to be outcasted and Loki took the throne. Under all this chaos though Loki did feel some sentiment for his brother and family but he knew there was not much he could do but prove to them he could be one of them. By the end of it all Loki was still second to his family and his brother and as a result it caused him to just let go. He was lost for a long time.. after that but shortly came back. He has sightings all over Midgard ( earth) and he held the power to destory the planet which was his intentions with ruling it also. He was darker.. more sinister at this point and completely insane to the point where he did not care for anyone but himself. He tricked everyone into thinking he had been defeated when really it was part of his trick his show. Loki almost won this war for earth but failed again as most sinister men do. His brother gagged and took him back home to Asgard to be judged and charged under Asgard law. For now Loki lays in a war criminals cell in asgard.. though he knows at one point his brother will need him again because of his power and strength.. He know that will be his chance to raise up again.
Sexuality:
Bisexual ( Because in legend much of the gods did not care for who they were paired with and with Loki's past he has pretty much gone both ways again and again ;> )
Being King, Being in control, his tesseract plush( he stole off mischief), His sceptor, Soft beds, Frost berries, Cool places, Dr Pepper, Chai tea, Soft fabrics, A good laugh.
His brother, plans failing, loosing control, Mirrors, Coddling, Mortal needs.
Lo's like how his name fits his appearance as does his personality. He is two faced and a silver laced tongue~ he loves to trick those he loves for his greedy needs. He holds his emotions in to hide the scars and the scared young creature he is. Many never understand him and as a result it has molded him to become something dark and sinister. he is the type of guy who would kill 80 people in one day but not spit in your hot dog ;>. He loves to get a good laugh wether it be from his "friends" or for himself and he will stop at nothing to make sure his trick and his plans go in full motion.
He does however have a sentiment side when it comes to his family, He hates them with a pure passion but something inside of him cant see to kill or harm them.
Words to Describe Lo:
Dark, Joker, Two faced, Silver tongue, Lier, Sassy, Mischievous, Insane.
Hobbies:
World Domination,Joking around, Drawing, Playing video games, Streaming the net, Tumblr, Chickensmoothie, Gaia, DA, Tea making, Partying, Sleeping, Enjoying nightlife, Night hawk, Apple games, Online play, LSing, Footy
Flawed Design- Stabilo
Mama- MCR
Skin and Bone- Linkin Park
Animation Attack - By me
( 21 frames all sketched out one by one...=A= Enjoy~ <3)
Loki King of Midgard- by me
Kneel Before me- by me.
Sneaky Loki- By Santi
Silver Tongued Trickster- By Me
Just Lounging on My Cloud o' Mischief
by Pudding Waffles
The Trickster
by Andiliion
Loki Fullbody
by
Annalese123
Cute? I am Loki!
by the wonderful
G.O.T
There is alot more to come~
Last edited by Dr Bones McCoy on Fri Jul 12, 2013 4:51 pm; edited 2 times in total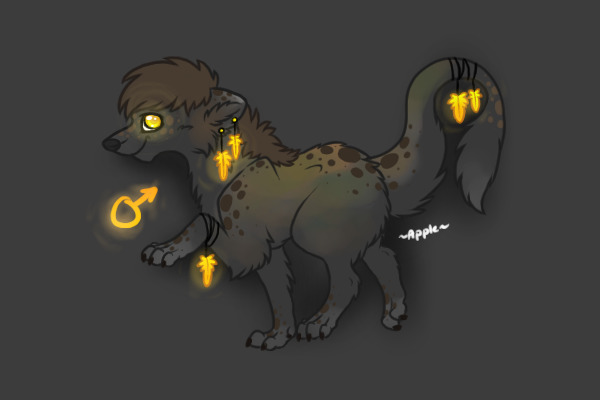 [size=150]~Come Along Mr. Bubbles~[/size]Username;;
Clu
Name;;
Mr. Bubbles
Gender;;
Male
--------------------------------
Song's Representing Him:
Demons of Rapture
Note to self
Personality :
Mr. Bubbles is a quite fellow. He enjoys the company of young kia's and not so much the larger ones. He can deal with certain Kia's but if any are to threaten the younger ones such as his little girl he will go ballistic. He has a very protective personality towards young Kiamara's and as a result he is loved by many kids. He enjoys making young ones smile and happy. He is very tolerable to anything they throw at him. His attitude can change in a heart beat if he feels threatened and when that is to occur you are best to avoid him.
Likes;;
Little sisters, Playing Tea Party, Watching bubbles, Protecting and cuddling his Little girl,Making his little girl happy.
Dislikes;;
Splicers, Monsters, hearing his little girl scream, Seeing his little girl Cry, Threats to his little girl, Getting wacked in the face, Loud noises, bright lights, Being lost without his little sister.
Hobbies:
Fixing things, Playing games with his Little sister, protecting, Drilling, Tea making, Sleeping, Relaxig.
History:
Bubbles lived a normal life before all hell broke loose in Rapture. Life turned upside down and much of the projects his creator wanted turned haywire. He now lives a solitary life with his Little sister protecting her and making sure she stays safe. He has had many others before but.. lost them to splicers and other creatures. He tries hard to protect the poor little Kia's from harms way.. by finding them hiding spots and making sure they stay there. He has cried out to many times before and cant handle loosing another one. His life has been up and down in and out and he has many battle scars, But having her there makes it worth all the pain he goes through. He enjoys the company of other small kia's and loves seeing their smiles as he brings them presents and plays. While he was manufactured he still has a heart and soul and a mind of his own, He keeps that all in check but sometimes it is over come by his systems protective drive to make sure the young ones are forever out of harms way.
----------------------------
Why the name Mr Bubbles?:
Well in the games the little sister refer to him as Mr bubbles or their dolls to it and I thought the name fit perfectly and matched his personality and history. Its a adorable name and most of the time he would be referred to Mr. Bubbles or Bubbles for short to keep it easy for the young Kia's to remember his adorable name.
Art;;
MANY ART COMING FROM ME SHORTLY WORK IN PROGRESS


Similar topics
---
Permissions in this forum:
You
cannot
reply to topics in this forum