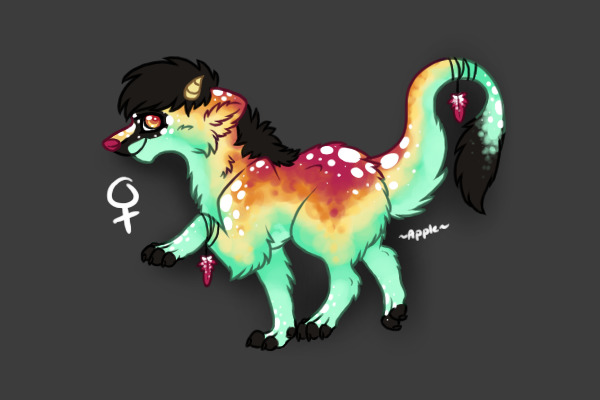 (By Owlbutt)
(By Beebs on Chickensmoothie)
BASIC INFORMATION
Full name:
Talia Eloise Eskin
(Talia hates it when others mention her middle name)
Pronunciation:
Tal-E-uh El-O-ease Ez-kin
Nickname(s) or Alias:
Tally
Gender:
Female
Species:
Kiamara
Age:
4 years
Birthday:
13th day every two months
Sexuality:
Male (but currently not interested)
Languages spoken:
English
Relationship Status:
Single (not interested)
PHYSICAL APPEARANCE
Weight:
120 pounds
Mane color:
black
Mane style:
natural
Eye color:
Honey orange
Fur color(s):
Teal, orange yellow, pink, black
Feathers:
White feathers stained red with cranberry juice
HEALTH
Addictions:
none
Allergies:
Pollen, Nuts
Any physical ailments/illnesses/disabilities:
none
Any medication regularly taken:
none
PERSONALITY
Personality:
Talia, otherwise known as Tally, is no ordinary square. Not only are her elegant colors bright and noticeable, but her personality is as well, but maybe not in a good way. Talia is a sneaky Kiamara, hiding many untold secrets. She's the type that spews smart remarks in conversations and sticks gum under tables. She is shunned by other Kia's because of her sassy charm. Tally is a big liar, but she always manages to get away with things because of her beautiful pelt. She also has a way with words; she can always find a way to convince others that she is innocent. Talia is like this for many personal reasons that she keeps to herself because when she talks about them she begins to cry. To Talia, crying in front of another shows weakness and she certainly doesn't want rumors to spread that she is a "weakling". Talia is like this because she has never had a family, not a single relative. After she was born everyone seemed to disappear (Tally will later discover that there was an earthquake that destroyed their home, her parents thought she was gone and abandoned her). Talia decided to suck it up and raise herself. Things did not go well though, it was difficult to teach herself good from bad because she was clueless. She could barely speak, so she could not ask for help. Talia began helping herself by stealing supplies from other Kiamaras. She was a wanted pup, All shop keepers where always on the lookout for her. When Tally was two, she had found her own feathers and painted them with cranberries because she didn't have anyone to make them for her. The cranberry juice resembled how sour and tart she is. It is a sign to others she is not one to mess with. Talia is a very strange Kiamara, all she needs is friends and yet she pushes them away because she is ashamed of who she is. She regrets her past and expresses it with a mental blockade from others. This breaks Tally's heart and she is secretly trying to fix this by joining the internet. She doesn't have a computer of her own, so she uses the ones in a library. She chats with other strangers on different websites but never reveals her true identity. She does this for practice just in case she finds a good fitting friend. Deep down inside -really deep- Tally is a sweet Kiamara with a heart of gold. It is urging to be released but Talia keeps her inside where no one can find her. The only way Tally's sweet side is released is through fake profiles on online chats. That way, nobody knows who she is ashamed to be.
Likes:
-The internet
-sweets
-climbing trees
Guilty Pleasure:
-Stealing
Dislikes:
-Tea
-long conversations
-eye contact
-Who she is
Fears/phobias:
-animals larger than herself
-making friends
Favorite color:
dark blue
Hobbies:
-Attending online chats
-Writing short stories
-Climbing
Taste in music:
Alternative Rock
SKILLS
Talents/skills:
-Lying
-Hiding
-Persuading
-Poetry
EATING HABITS
Favorite food(s):
-Pretzel sticks
-Chips
-Salty foods
Favorite drink(s):
-black coffee
Disliked food:
-Anything mushy (yogurt, pudding, mashed potatoes)
Disliked drinks:
-Tea
HOUSE AND HOME
Describe the character's house/home:
Since Talia is poor, she lives in a small wood house in the forest. She found the abandoned house years ago and believes it will tear down soon
Significant/special belongings:
-Writing journal (kept secret)
-Locket she found in a nearby stream
COMBAT
Peaceful or aggressive attitude?
aggressive
Fighting skills/techniques:
Special skills/magical powers/etc:
FAMILY, FRIENDS AND FOES
Parents names:
unknown
Are parents alive or dead?
unknown
Is the character still in contact with their parents?
no
Siblings? Relationship with siblings?
unknown
Other Important Relatives:
unknown
Partner/Spouse:
none
Children:
none
Best Friend:
none
Other Important Friends:
none
Acquaintances:
Speaks to the Librarian every once in a while
Pets:
none
BACKSTORY
Newborn:
Talia was abandon as a new born when a massive earthquake hit. Her families house had fallen and was unable to be repaired. Assuming Talia had died, her parents had left to find a new home. Little did they know Talia was stuck under the debris. Talia spent the majority of her childhood starving until she was able to walk. She lived off of berries and bugs. If Talia was lucky she would find a full trashcan and ate the scraps.
Child:
When Talia was two years old she discovered she lived not too far from civilization. She couldn't speak and eventually learned a few words from civilians. Talia had no money, so she would always steal food from Shop keepers. She had gotten quite good at it and only got caught once every 20 times. After a few weeks of stealing Shop keepers banned her from shopping at their stores and threatened to call authorities if they see her. Talia used her childhood cuteness to persuade the workers she would never steal again. Little did they know, Talia's stealing had just begun.
Adult:
Talia has collected some money and learned to read and write. Sometimes she writes short stories and sells them to pups. They say they enjoy her stories and always want to buy more. Other than that, Talia is a rude Kiamara and pushes others away. She is always on her own and prefers it that way. She spends a lot of time in the library. However she is not there to read, but to get access to the public computers. She chats with strangers using the fake name, Cynthia Stewart. Talia does have a kind side, but she only uses it chatting with strangers.
_________________
First Kiamara! Meet
Talia

AWOL




Posts

: 6


Reputation

: 0


Join date

: 2013-03-14





Similar topics
---
Permissions in this forum:
You
cannot
reply to topics in this forum