This post will hold a table of contents, showing my Kiamaras and providing a link to their post.
C
ontents
—————


Furfur

Megumi

Bioluminescence (a.k.a Kagayaku)

Reserve

—————
Last edited by Mello-chan on Wed Jun 12, 2013 6:11 am; edited 2 times in total

Mello-chan




Posts

: 12


Reputation

: 1


Join date

: 2013-05-03


Location

: In my mind



— the fallen angel —
BasicsName:
Furfur
Gender:
Male
Species:
Kiamara
Age:
Adult (4 years)
Birthday:
6th of April
Character
Personality:
Deceptive, shy, amoral, deceitful, withdrawn
Strengths
:
Weaknesses:Poem:
Out of shadows comes a faintly glowing light,
A shining impression against the black.
Pale fur; the white of glowing heat
Dark eyes; darker than the void between worlds
He hides himself in a veil of beautiful deception, he
Does not trust others. Even those the same as him.
None can dispel his deceitful glamour,
That, shrouded by his innocence
Has led so many astray
This white rose has black thorns.
Art
Designed by
jern!
!
By
xXKay123Xx!
By
Sanara
!
By
Chasing Dreams!
Last edited by Mello-chan on Sat Jun 08, 2013 5:36 pm; edited 1 time in total

Mello-chan




Posts

: 12


Reputation

: 1


Join date

: 2013-05-03


Location

: In my mind



Basics
Name:
Megumi
Kanji:
恵
Meaning of name:
'Blessing'
Origin of name:
Japanese
Pronunciation:
'Meh-goo-mie'
Gender:
Female
Species:
Kiamara
Age:
4 years
Birthday:
26th of April
Character
Personality:
Megumi is an unsociable Kiamara, preferring to wander the world alone rather than with some of the large Kiamara packs. This is not out of any ill feelings towards others of her kind, but rather that she simply lacks the social skills that would make such an existence possible. Because of this, she is often, if not always, alone. Even for such a shy Kia, this can be tiring and almost depressing at times. Still, she maintains that she wouldn't have it any other way. She is a wanderer, and would not be able to travel if her life was tied down with a pack, friends and family. As long as she can remember, she has been alone. It has never seriously bothered her, though it has sometimes made her feel vaguely unhappy. There is nothing social interaction could give her that she doesn't already have, or so she tells herself. A friend would be nice, but even if she could manage to interact with other Kias, she's too stubborn and rebellious to want to be accepted into a pack.
She can be seen as rebellious, at times, as she's very stubborn (though at first you would not think so) and dislikes following rules. Megumi doesn't like the idea of being ordered around within the hierarchy of a pack, which is just another reason to add to the list of why she won't join one. She prefers to be free to make her own decisions, of her own free will. All attempts to get her to join a pack so far have failed. She doesn't trust figures of authority, or more specifically, doesn't trust figures of authority to not abuse the power their position grants them. Other Kias don't tend to grow on her, as she stays very distant towards them.
This Kia has trouble distinguishing reality. There is no-one in her life to remind her of what reality is, so Megumi just floats her way through, with daydreams and dreams mixed up in between real life experiences making her seem constantly distant and dreamy. She also has trouble forming attachments to things and people. Megumi comes across as very reserved when she does encounter anyone, as she doesn't want to be attached to someone or something transient (though it may also be because she's too shy and timid to try and form any kind of relationship).
If you thought her bright colours had anything to do with confidence and harshness, you'd be wrong. Genectics, not personality, have determined this Kia's pelt. Megumi is a very shy and sweet Kiamara, but with a crippling fear of embarrassing herself in front of others. Other than the occasional run in with a pack or a few lone Kias, she has had no experience in talking to anyone other than herself, so she doesn't really know how to conduct herself around Kiamaras other than herself, considering them almost as if they exist on a different plane to her. Her fear of making a fool of herself and her trouble connecting to her kind combine to make this Kia ridiculously timid. She doesn't know how to be herself around anyone other than herself. Even on her own, she stays shy and insecure.
It isn't easy, living alone like she does. Megumi is still a young Kiamara, at 4 years old she is only just classified as an adult. Though there's no-one to bully her or say nasty things, there's also no-one to compliment or reassure her. She sometimes wishes she had grown up around other Kias, so she knew how to interact with them. She has a very low sense of self-worth, probably because she has never felt like her existence is necessary to anyone. Singing is the only time she feels truly confident in herself.
Megumi loves to sing, though it would probably be more correct to say that she lives to sing. When she's singing she feels far more confident, and becomes almost openly sarcastic and rebellious. She can only sing, however, when she is alone. This creates a problem for her in that the only way for her to gather enough confidence to attempt to interact with other Kiamaras, even if she wanted to, requires her to be on her own. Many times, other wandering Kiamaras have been puzzled by mysterious singing from the depths of forests and other places where Megumi has visited.
Favourites:
Here I will attempt to explain Megumi's favourite things, including her most treasured things: citrus fruits and music. A strange combination you say? Well, she hasn't quite found a way to enjoy them together yet... But she's working on it!
Music and singing, as explained in her personality, is the only time that she is confident in herself and her rebellious side is able to show itself. Megumi likes music because she is able to lose herself in it and feel like she has travelled far away without taking a step out of the desert.
Her favourite food is citrus fruit, a rare treasure for her. On her travels, she has occasionally come across oranges and other members of the citrus family, and after a brave and hunger-driven first taste, became obsessed with the fruit. Maybe it's because they are so unusual in her favoured settling place of deserts that she likes them so much. Or maybe it's because so many of the citrus fruits are her favourite colours: orange and green.
Megumi's favourite animal is the tiger. She once came across one during her travels, far from her beloved desert. Luckily for the shy Kia, the great cat simply ignored her and carried on its way. She was in awe at how something that looked so much like her could cause such reverential respect amongst others.
Her favourite place is the desert, but more specifically the border of the desert, where sand meets grass. She loves the desert because of it's warmth and the softness of the sand, as well as the beautiful colours.
Megumi's favourite time of day is sunset, where the warmth of the day becomes the cold of desert nights. The sky becomes orange, which is coincidentally her favourite colour.
She loves orange because it is a bright, happy and confident colour, and she aspires to be able to present herself as such to the rest of the world. It is also the colour of the desert sands. Green is her second favourite; the colour of verdant plants and life. It makes her happy to see bright green plants when travelling outside of the desert.
Weaknesses:
Megumi suffers from extreme Haphephobia, the fear of being touched. It doesn't usually affect her quality of life because she is rarely amongst other Kiamaras, but is a crippling ailment if she ever has to defend herself in a fight. This is just another reason why she avoids packs; she would find it impossible to hold her own in a fight over territory. She grew up alone, which is something she didn't mind, however the lack of physical affection, or really any physical contact in her childhood has caused her to think of it as unnatural, and therefore resulted in this phobia.
Megumi does remember that her mother was very kind, though she doesn't remember her father at all. Because of this she is more comfortable around other females, though she really would rather avoid
all
social situations.
Likes:

Solitude

The desert

Sunset

Citrus fruits

Dark nights

Feeling superior

Nature

Music
Dislikes:

Other Kiamaras

Beaches

Early mornings

Following orders

Authority figures

Her reflection

Physical contact

The supernatural
Human form:
Having read her personality, you'd expect the human version of Megumi to be a soft, mousy-looking average girl. You'd be wrong. Like her bright, confident markings, her human form is equally as misleading. She's quite small, standing at about 5'2" and weighing around 45kg, with an athletic and relatively muscular frame. Her hair is bright green, the front of it resembling her Kiamara mane, and not particularly long; often tied into a short ponytail. Under each of her eyes, Megumi has three black dots like her markings. She often wears heavy black eyeliner, but not much else in the way of makeup. Her skin is a darkish bronze colour, almost orange-y, and her eyes are, quite obviously, electric green. Her 'sun-like' markings from her Kiamara form's shoulder carry over as black tattoo-like markings on her upper arms. Seeing as she's usually wearing a short-sleeved white blouse, blue headphones, blue-black boots, orange shorts and a short dark blue-black waistcoat, her markings are nearly constantly on show. She makes an imposing, rather alternative figure, but some appearances are deceptive.
Accessories:
Megumi is generally seen with one of two accessories — a pair of red-lensed black goggles or blue wireless dj-style headphones. Most often it's the headphones, which she even wears as a human. They are the pale blue of her feathers, with a darker teal-blue star and 'Megumi' written across the sides in white lettering. Though circular in shape, they have a point-tipped protuberance on each side, like elfen ears.
Art
By myself.
By myself.
By myself.
By myself.
By myself.
By
driftingsakura
!
By
driftingsakura
!
By
driftingsakura
!
By
rosepetal50
!
By
XxXKay123XxX
!
By
Scootaloo.
!
By
★Raystar★
!
By
Nico-Scout
!
By
MiniTheFox
!
By
Nico-Scout
!
By
bear
!
By
~ThreeDaysGrace~
!
By
Glitch.
!
By
.::The Doctor::.
!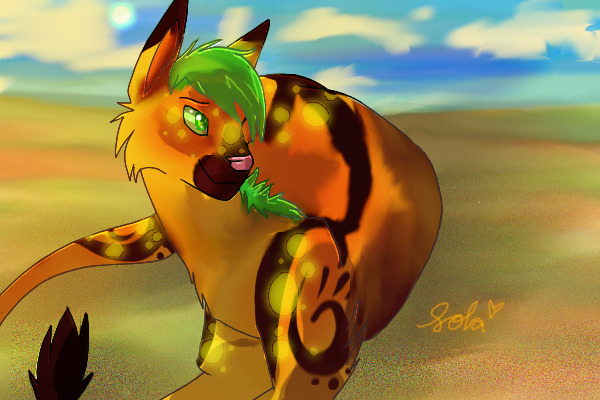 By
SolarDaemon
!
By
SolarDaemon
!

By
pedunkle
!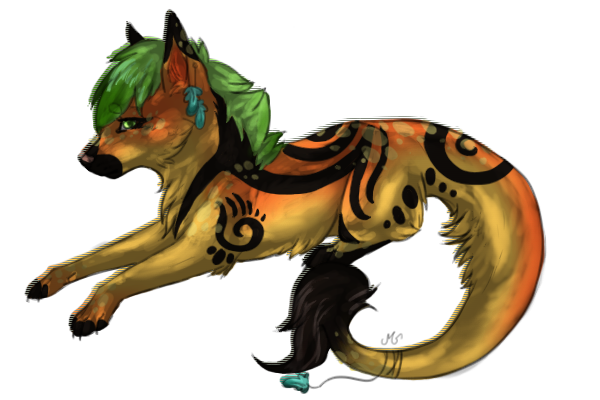 By
stuck in reality
!
Last edited by Mello-chan on Sat Jun 08, 2013 5:38 pm; edited 2 times in total
_________________
— F u r f u r —
— M e g u m i —
— K a g a y a k u —

Mello-chan




Posts

: 12


Reputation

: 1


Join date

: 2013-05-03


Location

: In my mind



—'Kagayaku' the clever—
Basics
Name:
Bioluminescence 
Meaning of name:
bio·lu·mi·nes·cence noun

\ˌbī-ō-ˌlü-mə-ˈne-sən(t)s\



The biochemical emission of light by living organisms such as deep sea fish, glow-worms and jellyfish.

The light emitted by said organisms.

Nickname:
Kagayaku 
Meaning of nickname:
'To emit light/To luminesce' 
Origin of nickname:
Japanese
Pronunciation:
'Kah-gah-yah-koo'
Gender:
Female 
Species:
Kiamara
Age:
4 years (Adult)
Character
Personality:
"Bioluminescence has to describe her own personality? Hmm... Ah, this is hard you know! She supposes she can do it as an introduction kind of thing — but she should be working!
So, hey there! This Kiamara is Bioluminescence, a five year old Kiamara female working as a marine biologist, and commonly known as Kagayaku! This Kiamara likes... Her work, and jellyfish. Aren't they just the most adorable squishy things you've ever seen?! Did you know that jellyfish have been found in every ocean on the planet, and freshwater too? Their bodies are made up of more than 90% water, and their skin is so thin that their blood is oxygenated through diffusion! They really are fascinating creatures. Kagayaku dislikes people that think just because she's hyper all the time, she must be stupid, and also birds. Urgh. This Kia hates the things. They eat jellyfish — how could they?!
Kagayaku's hobbies are... Working, and also swimming or scuba diving. Any chance she can get to be in the water, she'll jump on it in a flash! Her dream is to be the best marine biologist there is; everyone will have to come to Kagayaku for answers! Ano, this Kiamara does have one other great love in her life... But Kagayaku won't say. You'll laugh at her."
Bioluminescence is a bubbly, cheerful Kiamara who loves everything about the ocean. She is immensely committed to her work, and desires to be the best possible. An inspiration quote she lives by is  "An invincible determination can accomplish almost anything and in this lies the great distinction between great men and little men." (Thomas Fuller). Unfortunately for her colleagues, 'Kagayaku''s determination manifests itself in the form of seemingly ceaseless energy and drive. She can come across as hyper and air headed on first meeting, but if you get her onto the subject of her work you would soon see how much of a fool you had been, to judge this puzzling book by her cover. Her strangest trait is her insistence to only speak in third person, like a child. Many Kias put it down to the amount of work she must have done in her childhood, to know as much as she does, and therefore the lack of playing she must have done. Still, this Kiamara is kind, polite and humble and can find it within her heart to love almost anything... Except birds, and squid. They majorly freak her out.
The truth is, Kagayaku has one other thing she loves so much it rivals the sea... And it's completely unrelated. In fact, it comes as a shock to most.
That thing is everything to do with motorcycles. Maybe a Kiamara cannot ride one, but Bioluminescence can fix them up and tinker with them to get them in perfect 'health', and ride them in her human form. She considers them just as alive as her beloved jellyfish. Besides, neither of them have brains. So why is one alive and the other not?

Likes:


Jellyfish


Work


Rain


Motorcycles


The ocean


Being respected


Swimming


Surprising people with her intelligence


Outsmarting people


The colour, dark blue


Dislikes:


Birds


Squid


Being looked down on


Being considered stupid


Breaking rules


Hot, overly sunny days


Prejudice


Her inability to ride a motorcycle in Kiamara form


Poor motorcycle safety


The colour, scarlet red

Theme song:
Easygoing rider — Hatsune Miku
Art
Designed by
Wind Song
!
By myself.
By myself.
By
Neko-the-Gunslinger!
Last edited by Mello-chan on Wed Jun 12, 2013 6:13 am; edited 2 times in total
_________________
— F u r f u r —
— M e g u m i —
— K a g a y a k u —

Mello-chan




Posts

: 12


Reputation

: 1


Join date

: 2013-05-03


Location

: In my mind



_________________
— F u r f u r —
— M e g u m i —
— K a g a y a k u —

Mello-chan




Posts

: 12


Reputation

: 1


Join date

: 2013-05-03


Location

: In my mind





Similar topics
---
Permissions in this forum:
You
cannot
reply to topics in this forum