Last edited by soulBridge. on Thu Jan 09, 2014 2:05 pm; edited 4 times in total

soulBridge.




Posts

: 5


Reputation

: 0


Join date

: 2014-01-05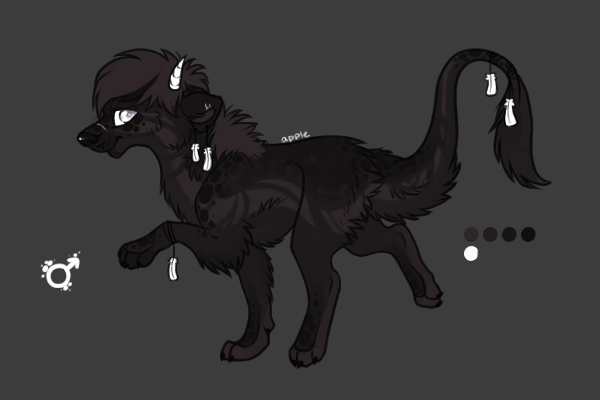 Kiamara #388
Designed by: .Talon

Gender: Male
Age: 22 (? possibly subject to change, but in 20's)
Sexuality: Mostly straight, but can be swayed to like males.
The form that won Talbot
(
with some minor changes to the story, mostly grammatical, but may also have the adding of some more details
)
:
soulBridge. wrote:

"messenger of destruction"

___________________________________________________________________________________________________________

◘

username;;

◘

personality;;

[ word count;; 186 ]


quiet . ignorant . fickle . romantic
quiet - living in the shadows of poverty can make someone desperate, or just accepting of their fate. talbot seems to have taken the "acceptance of fate" path. very quiet, and staying under the radars of people's sight taught him to be quiet and not attract attention to the self.
ignorant - one might think that he knows what's going on and all that jazz, since he's grown up poor, but in actuality, he knows very little about anything. it's mostly due to his not noticing his environment, except for the things that have made an impression on him.
fickle - although he may say he'd never do something like that, when he has to survive or has his own foolish reason to act otherwise, he will bend his morals and views on things for the time being.
romantic - he's a hopeless romantic. he doesn't know how to talk to women, yet would like to be in a relationship. something about the idea of love that he's got makes him make some seriously foolish decisions in his life.

◘

story of his scars;;

[ word count;; 1895 ]


His family wasn't too well off. Scraping together coupons and calculating exactly how much each meal would cost was how they lived. They weren't out-on-the-streets poor, but they could easily become so if they weren't careful about where their money was being spent. The only thing of value they had was a picture of him and his parents taken by a professional photographer, and they even got a nice wooden frame to put the picture in. Talbot treasured the picture, and had it put on a shelf to keep forever. But other than that, the only thing he knew how to do was count money and wait patiently for the next meal.

There was a girl. She was very mysterious to Talbot. He would often find her rummaging through the trashcans outside, looking for anything to sell to the people on the street. She was quite the haggler, too. He would also see her bickering about with someone unfortunate enough to buy some of her "goods" out of pity. She was pretty, he thought. But he didn't really want to talk to her. Well, more like couldn't bring himself to talk to her. So she was pushed to the back of his mind for the rest of his childhood.

Years passed. He was now a teenager. He and his parents were still meticulously counting pennies and storing all the extra little change in glass jars. But on some nights, when Talbot couldn't fall asleep, he could hear the creaking of the rotting wooden floors as his parents moved about. Why are they up so late? he would ask himself. But he tried to forget about it, telling himself it's not really his business to worry so. After a few weeks of this though, he couldn't help but quietly follow his parents to wherever they went. He nabbed his so-called bed sheets (barely kept him warm but they were more of a comfort than a way to stay warm), and tip-toed behind his parents.

He was pretty good at that, keeping quiet. And so he followed, slipping into the shadows of the alleys every now and then, so his parents don't know he was following. Finally, they took a left turn into an alley he had used to pass by every so often in his childhood. Now what do they want from that alley? he thought, as he took a peek into the alley.

It was like as if there was a party in there. They somehow got a hold of Christmas decorations and hung it around the dumpster and took lanterns and flung it all around the place. Some of these mysterious people were carrying around glow sticks and flashlights and had cigarettes hanging from their mouths. It was as if they wanted people to notice their presence. Talbot noticed his parents walk up to a bunch of intimidating, burly men, who grunted and pointed to another figure on top of the dumpster, like they were on a throne.

That figure was the girl. That same girl whom he'd seen haggling with "customers" on the streets, and walking up to fancy men in business suits to buy her "goods." It seemed like people came to her now, even his parents. They handed her something that sparkles in the faint glows of the colorful glow sticks and sorry excuses of Christmas decorations, which she snatched from their hands and inspected. She smirked.

"Looks like you went through a lot of trouble getting this delicacy for me," she purred. "How you manage to steal this beauty with your fumbling feet boggles my mind. I could hear you coming up this alley five minutes before you came here!"

She sighed, and flung the "delicacy" toward someone who seemed like her bodyguard, who caught it with one swift motion.

"Fine," she moaned dramatically, tossing a sack of money toward his parents. "I'll be giving you ten for this ring. It's not even of any good quality, so consider this very good pay."

Talbot couldn't believe what his parents got into. Theft? Did they really sink that low? With disgust, he stormed toward his house, grabbed all of his belongings, and snatched the picture of his family off his beloved shelf and threw it on the ground with all the force he could muster. It shattered into what seemed like a million pieces. But not satisfied, Talbot crushed the broken glass with his feet, grinding it into dust, screaming down at his feet. With that, he stole off into the night, tears streaming down his face.

A few months passed, and Talbot was now really out on the streets. Sometimes, his nightly search for a place to sleep took him past the alley he saw his parents in. When he passed by day, it was empty and seems deserted, but come night and it bloomed into a festival of light. The light was alluring, especially since the girl was there. But no, he couldn't go and make deals with these thieves and crooks, now could he? He wrestled with this question for weeks, his brain saying he shouldn't, but his stomach saying the opposite.

But his stomach won this round. And so did his heart. His heart had longed to see the girl, and maybe just get the chance to talk to her and befriend her, perhaps. So with a heavy mind, but a light heart, he made his way toward the alley.

Talbot stepped into the alley and met the intimidating guards of the place. Talbot told them that he needed some money, and with a grunt, they let him in. He walked up to the girl, whom he heard people called her Lady, and bowed.

"State your business. What do you need," the Lady said, puffing out rings of smoke. Talbot coughed, and whimpered, "I need money. Perhaps if I steal something of great value, you can give me a bit of pay for it?"

The Lady scoffed. "Oh really?" she asked, arching her eyebrows. "There is a ring I am quite interested in though. A ruby ring. Mrs. Johnson's ring. Lives just around the corner, second house, that blue one. Tell you what," she said, leaning forward, putting the cigarette in her mouth, "you get me that ring, I give you a hundred fifty. I haven't given out that kind of money ever. So you better accept it, boy," she spat.

Talbot nodded nervously. "It shall be done, m'Lady," he stuttered, bowing."Ha! You hear that? M'Lady," the Lady said, chuckling. "Stop with the formalities, and go get me that ring already!" she huffed, pouting.

With that, Talbot left the alley. He mulled for days, waiting for the right moment to try and steal the ring from Mrs. Johnson. But finally, she stated that she'd be going out of town for two days, and left the house. With that, on the night Mrs. Johnson was out, Talbot sneaked in through an open window she was so careless to not close, and scoured the house to find that ruby ring. At last, as he rummaged through her dressing drawer and found it. The ruby ring. With that, he stood there, looking at the ruby ring.

Why, that would be perfect! he thought. When presenting it to her, and when she's about to get him his pouch of money, he would stop her, and say that all he needs is her love. Yes! that's what he'll do, he thought. Elated, he stumbled through the house, and without looking, knocked over a vase on a table. The loud crash surprised Talbot, and he scrambled toward the open window he came in through. However, he toppled over many tables and other valuables, and caused such a ruckus that the neighbors woke up, and called the police. Talbot heard the sirens of the police when he finally got out of the house through the window, and rushed into the darkness of the alleys, where he hid himself in a dumpster until the next day.

The case wasn't too big of a deal. One newspaper printed the story, but no one really read the paper anyway. Mrs. Johnson freaked out, but no one really wanted to talk to her about it anyway. Without eyewitnesses to see his face, the case wouldn't go anywhere. But nevertheless, he kept to the dumpster for the rest of the week.

Finally, mustering up the courage to go to the alley where the Lady was at, he got out of the dumpster and made his way toward the alley. He tucked the ruby ring in his tattered jacket, and walked up to the guards. They growled at him, and were about to take a swing at him, when the Lady stopped them.

"Stop, men. Let the man come through," she cooed, waving Talbot to come toward her. With a relieved sigh, he walked toward the Lady."No need to pay me, m'Lady," he said, presenting the ring. "All I need is--"

The Lady had made his way toward him and smacked him across his face, scratching his nose. Talbot crashed to the ground, surprised and rendered speechless.

"Oh, you thought you could get away with this, did you?" she hissed. "Just because people don't read the paper doesn't mean that we don't. We have to keep up with the news, boy. One slip up like yours, and we go out of business. If more people read the paper, we'd all be going to prison. Thank the heavens we don't have to go through that." She paused and narrowed her eyes. "And you don't need pay? But look at you! so skinny. Barely living, and what other thing is it that you demand of me? That wasn't part of the bargain," she snarled. "The other thing you demand of me, what is it? Men are so predictable. I know what you want. You want my love. Fool. You're starving, weak, and all you can think of is love? I can't believe you."

Talbot listened to all this, stunned. How...? he thought. Was he really that transparent?

"Stand up, you filthy piece of trash!" she barked, grabbing his shirt collar and pulling him up. With weak knees, he stared into the eyes of the Lady. She leaned into him, and rasped in his ear, "Want to know two things?"

"One," she said, flicking her claw on his ear, making a small scratch, "I'm not paying you at all. That's what you get for doing a lousy theft job. And second?" she paused, making another scratch on his ear, "I'm already married, you sick fool."

With that, she shoved him away from her, and walked up to her bodyguard he had once seen that fateful night with his parents. They embraced each other, and nuzzled each other before the Lady turned back to Talbot, her eyes now calm, almost pleasant.

"So now you have two lovely tick marks on your ears to make sure you never forget that. But I'll be taking that ring though," she said, snatching up the ring from his hands and putting it on her ring finger.

"Bye bye," she whispered, as Talbot scuttled away from the alley, his nose and ears bleeding.

"I'll show her one day...I'll show her," he rasped as he walked away.

...And that is the story of how Talbot got his scars.
___________________________________________________________________________________________________________
Last edited by soulBridge. on Tue Jan 07, 2014 1:22 pm; edited 2 times in total

soulBridge.




Posts

: 5


Reputation

: 0


Join date

: 2014-01-05




soulBridge.




Posts

: 5


Reputation

: 0


Join date

: 2014-01-05




soulBridge.




Posts

: 5


Reputation

: 0


Join date

: 2014-01-05




soulBridge.




Posts

: 5


Reputation

: 0


Join date

: 2014-01-05



Talbot is one of my favorite kias.

PeachTea




Posts

: 12


Reputation

: 0


Join date

: 2013-12-31




---
Permissions in this forum:
You
cannot
reply to topics in this forum