Last edited by Talon Gami on Wed Apr 09, 2014 10:30 am; edited 1 time in total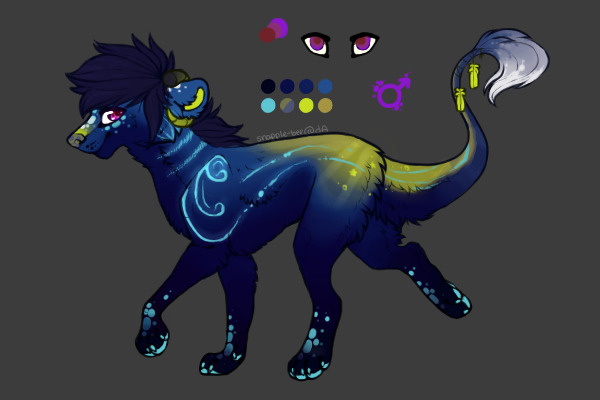 Name
: Záporozo, goes by Zap
Name Meaning
: Undertow in Hungarian
Gender
: Male
Orientation
: Omnisexuality
Relationship Status
: Mated
Family
: Sons - Deimos and Nemo
Friends
: Naught, Dinja, Iskander
Enemies
: ---
Quirks
: Hoarder, Impulsive, Amnesiac, Thalassophobic
Personality
: Záporozó is something of a sugar-coated lemon. He's incredibly sweet until you bite down. He is willing to go the distance for a stranger and willing to take others' crap to a point. However, he is not the smartest when it comes to situations and will bite back if he feels he is backed into a corner. Cause and effect is something he doesn't comprehend very well and is something he will learn all over again, causing him to be in a handful of situations that are not in his favor. This also makes him a very poor planner - if he even plans at all - and will usually run headstrong into a situation without a second thought. He is quick on his feet but not a quick thinker, having more muscle than brain power. This doesn't make him a brute, he is not unnaturally strong or fast nor incredibly dumb. He is simply better with his feet than he is on his feet.
He can be shown to be very passionate about things, even if it's the smallest of actions like fetching some water. He loves to help others, growing plants and cleaning dens, but doesn't care to help himself often. He never cleans his house, cluttering it up with hoarded items that shines in his eyes. He isn't lazy, he enjoys getting up and going for walks and runs, he just cannot let go of some of these things - every items is dear to him and there in case he needs it, though he doesn't realize he may never need them. He isn't very clumsy, he takes great care of anything if he is helping someone else. He loves to lend a gentle paw.
Under that gentleness that is on his surface lies dangerous territory. Emotions bubble inside like lightning, waiting for something to get close enough to strike. He bottles up emotions, unknowingly to the cause and effect of his drowned brain, just certain functions it just does not render anymore. This is very dangerous, holding back will only cause more damage when it finally is released, like anything when it is contained long enough. This is why he is strangely attracted to the ocean and all the darkness she contains. He doesn't realize it, but beyond his fear of the vast ocean he craved and longed to jump in. Somewhere deep in him longed for it, it was the only thing he could confide in. The light has betrayed him, pulling away from his reaching paw then stranded him on a rock. His memories and everything in his past was gone, so the ocean was the only thing left. Yes, it suffocated him and nearly killed him, but the ocean was the one that still wanted him as waves crashed the shore, calling for him, as he passed by. The ocean was there for him now. Darkness had it's grip on him as it devoured his soul and any light left in him. Zap was ignorantly becoming like the sea, shimmering on the surface as others came into his life while violent undertows lurked deep within him.
[Roleplays: Not Seeking]
Last edited by Talon Gami on Wed Apr 09, 2014 10:34 am; edited 1 time in total
Name
: Tone
Name Meaning
: Pronounced "Tony", but it means nothing.
Gender
: Male
Orientation
: Bi
Relationship Status
: Mated
Family
: Pixel, Snapple, Dinja, kids - Balaur (f) & Tale (m)
Friends
:
Enemies
:
Quirks
:
Personality:
Tone is found calm and collective most the time, always seeming to be aware of things around him but not showing an exertion of emotions. His expressions usually stays the same, changing rarely. He seems so simple in how he feels and what he enjoys, but Tone is very complicated deep down. Under this cool and casual demeanor, he is filled with suppressed emotions, often labeled as passive-aggressive. He doesn't yell or get violent to show his anger, he just takes the punches. At first. He expresses his anger in other ways, such as refusing requests or ignoring them. He doesn't always realize this is what is going on, but that is how he expresses his emotion. This, however, is very detrimental to relationships.
He is very cunning, very charming. He gets annoyed and angry easily, but he keeps that calm and charming look... like a dark prince. He doesn't mind it at all, passing by girls and boys that stare at him is just what he enjoys. He will, to please the young ladies and men, occasionally flip or move his hair from his face just to hear them squeal. He puts on a charming act to strangers, but he isn't that way around his family. He isn't as charming or pleased, he tends to keep to himself or look annoyed when his sisters are near.
[Roleplay: Not Seeking]
Last edited by Talon Gami on Wed Apr 09, 2014 10:40 am; edited 1 time in total


Similar topics
---
Permissions in this forum:
You
cannot
reply to topics in this forum