Page 2 of 2 •

1, 2

Kiamara 260.

If I could design one? She'd be a female hipster kia with reddish mane scene styled(scene hair can be pretty, as long as there are no crazy colors) and hipster glasses. She'd have a see through white scarf, and her body color would be pastels. Her name would be Jalisa. Her personality would be loyal, cunning, rebellious, compassionate, and perfectionist.

Bellamy




Posts

: 6


Reputation

: 0


Join date

: 2013-04-23



My Dream Kiamara is for sure without a doubt #200
I love her to bits
SO SO SO SO SO SO SO much :3
I secondly also love #232
I love them both and hope I can obtain both of them <3

If I could design a Kia, I think that it would be a boy with
with cool horns from like a spiral horned antelope
or from a very unique animal with horns
(I also considered moose antlers)
I would also want him to have a cross
I don't really know about colors :/ since I like a HUGE variety

Destiny




Posts

: 7


Reputation

: 0


Join date

: 2013-04-07


Location

: your bed



Kia #13. I love that disign so much.
_________________
Mr. Happy is frowning.

IHaveSoup




Posts

: 2


Reputation

: 1


Join date

: 2013-05-11



Kia #232. I was in love. I lost. But I will be waiting for another dream, and desperately hoping it will come very soon. ;)

poofycat




Posts

: 5


Reputation

: 0


Join date

: 2013-05-27


Age

: 18



I have yet to find my "dream Kia", however, I like Cosmic's and Knight's latest baby girl from Nursery Batch 15. I hear she will be gifted, I hope her new owner loves and takes care of her!

My dream Kia design:
Creams, tans, and dark, rich browns. They would be layered from darkest to lightest, and coral-colored spots. Her hair would be moderately long and wavy, very fine and soft, and she would have side bangs. Her feathers would be coral with splashes of browns from her base-coat. She would have one feather on her ear and one on her tail. She would have a gecko-shaped charm on her tail as well.
Oh, my Dream Kia? <3 I'm trying for her right now~
It's Kia 266.

roger ;;




Posts

: 12


Reputation

: 0


Join date

: 2013-06-19



My dream is #300. I was originally just going to take a look at her and probably not enter because of all the competition, but I fell in love and had a complete muse burst!
_________________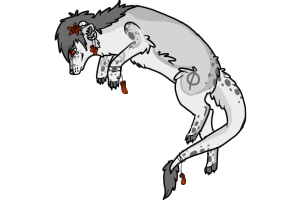 I am the extremely proud owner of Kiamara #364, Keeva. She is always open for rp's, and I would love some art of her too <3333

AmberSky345




Posts

: 65


Reputation

: 0


Join date

: 2013-05-07


Location

: At my laptop



My dream Kiamara is Kia 317, I really hope I win him >.<

edit;;

But if I had to create one... like a custom...

It'd be black, with white swirls, (like waves) coming up the legs, tail, and face. There would be white slime (more liquidy, I suppose) coming down her back. She would have bouncy, long hair. She'd have bangs obcuring half of her eye, which would be a deep blue.

Her hair and tail would be a steel color... and yeah. c: She'd also have fluffy hair edits, and her name would be Orchestra or Oblivion (If Oblivion was available, anyways ~)

FoxerOwll




Posts

: 10


Reputation

: 0


Join date

: 2013-07-16


Age

: 23


Location

: South west



One with a light black base, red spots and a light grey underside.
It'll have red eyes and dark grey feathers with probably black horns.

Why did I choose Dark colors? O____O

_________________
Hello there <3
I'm Mangoes.

Feel free to shoot me a PM on here and on CS :3

Mangoes




Posts

: 6


Reputation

: 0


Join date

: 2013-07-16


Age

: 15


Location

: Brookshire, Texas, USA



The monochrome summer Kia (owned by princess celestia and called Kuluri) was a dream Kia for me. I still love her, but I'm happy she got a nice owner ♥

As for a custom Kia, probably one with white/grey/black designs with a little pale blue or pale green. Or swap the shades with browns and creams. There'd be spots/speckles and small stars or flowers dotted around. Nothing too complicated ♥ The hair and tail would be a darker colour to the rest of the Kia, maybe dark brown? The feathers would be pale blue or pale green. c: Oh, and she'd be female.

Yeah this is subject to change cx

mintyMocha




Posts

: 4


Reputation

: 0


Join date

: 2013-07-29


Age

: 18


Location

: You don't need to know~



Page 2 of 2 •

1, 2


Similar topics
---
Permissions in this forum:
You
cannot
reply to topics in this forum