This is where I'll show off my Kiamaras. So far I only have one, but I hope that'll change soon.

PurpleDirewolf2015




Posts

: 12


Reputation

: 1


Join date

: 2013-04-23


Location

: NC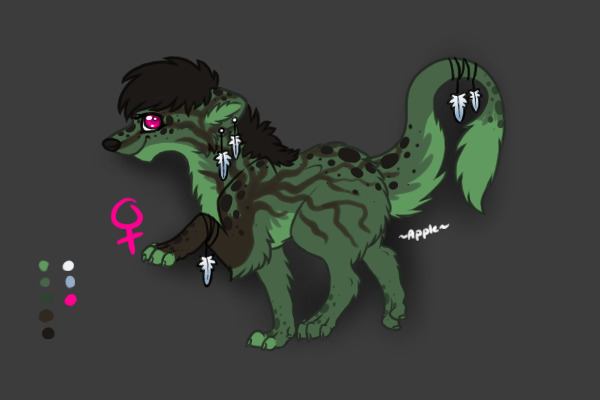 Her name is Chaya. It is a Hebrew name meaning "life." I find it suited her because to me, her pelt reminds me of "The Tree of Life."
Chaya is a female. I think the bright pink eyes give that away.
Chaya is 6 years old. Her birthday is April 23rd, which also makes her a Taurus.
Chaya is a really down-to-earth gal. She is very sweet and friendly to everyone she meets, and she loves to have fun. She can be a little shy at times, but it doesn't take her too long to warm up to new friends. Chaya loves to have fun, but she isn't a huge fan of rough housing or play fighting. She isn't that strong and doesn't like being helpless pinned to the ground. Besides, her companion, a white raven named Avi, will just step in and peck her "opponent" until they get off of her. Chaya would much rather just go for a calm nature walk, or work on some art.
Chaya has a fraternal twin named Blossom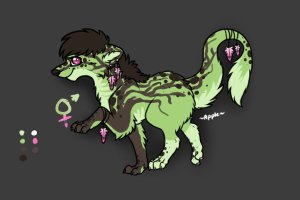 Chaya is currently single, but she is looking for that special someone who loves her for who she is.
Chaya's companion is a white raven. Yes, they do exist. No, they are no albino ravens. They are their own species of raven, bigger and smarter than normal ravens. Chaya's raven's name is Avi. It is Hebrew for "father". Chaya gave him that name because she sees him as a father figure.
Chaya met Avi a long time ago, or rather it was Avi who found Chaya. The white raven was only a hatchling when he fell out of his nest. His mom and dad were away hunting for some food for him and his brothers and sisters. The white raven was a little scared, being on the ground, he was bright white and vulnerable, since he couldn't fly. However, the raven was smarter than most, and instead of staying by the base of the tree hoping he would be rescued soon, he started to look for someplace safe to hide until his parents returned. He found a bush not terribly far from his tree, and decided that it would work for the time being. He hobbled as fast as he could towards the bush, and wiggled his way into it, but he didn't realize he wasn't the only one in the bush. To the little white raven's surprise, there was a young kiamara also hiding in the bush. He almost missed her because her green pelt blended with the bush, but he couldn't missed her scared pink eyes. For a moment all they did was stare at each other, wondering if the other was going to attack, but then the young kiamara spoke up.
"Avi?" she asked the raven. She was really asking in her own way if the raven had seen her father, who she had been separated from.
The white raven, who was too young to have a name assumed that Avi was his name. He nodded at the kiamara. "Avi." he replied, pretty much mimicking the kiamara. "Who you?" he asked with his limited vocabulary.
The green kiamara looked at Avi. "Chaya. I'm Chaya." she answered him. She knew Avi wasn't her real father, but he was all she had at the moment so she moved closer him and curled around him, quickly falling asleep. Avi was a little surprised at first, but he suddenly felt safe with Chaya and nuzzled up against her soft fur. From, that moment on, the two were practically inseparable, helping each other every step of the way. They are both more than willing to give their lives for each other, and will not tolerate any sort of mistreatment in any way.
(Colored by me unless stated otherwise)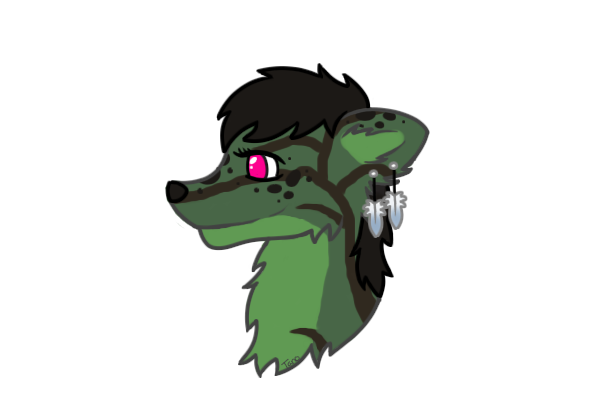 From the wonderful Elementstar

PurpleDirewolf2015




Posts

: 12


Reputation

: 1


Join date

: 2013-04-23


Location

: NC





Similar topics
---
Permissions in this forum:
You
cannot
reply to topics in this forum